Post submitted by
Reanna Mortensen
-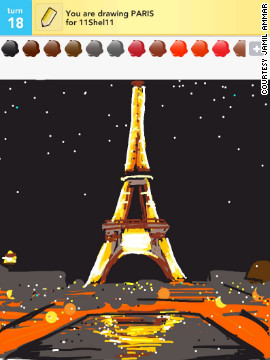 Many smart phone users are utilizing an application called Draw Something. This game, which has the same play at your own pace as Words with Friends, is a mix of Pictionary and a bit of Hangman. It was developed by OMGPop and has 35 million users after only being released for two months.
The game is played with two players. It can be connected to a social network to find other people you know that play the game. However, random games can be created also. Instead of competing against each other, the two players must work together to draw pictures. At the beginning of each round, one player is given three different words to choose to draw, from easy to hard. They must then doodle whatever word they chose. The other player has to guess the word using the letters they are given. If the word is guessed correctly, then both players are awarded coins based on the difficulty of the word. This cycle continues. The user of the application can have many games going at once. Sometimes easy words such as pizza or phone come up, but there are also harder ones to illustrate such as Adele or Twitter. The correct clues must be given for the other player to be able to guess the word.
It seems that this app is so popular because it is leisurely. Also, there are no other games like it out there. One must have a phone with a touch screen to be able to draw the pictures with their finger or stylus.