Amazon has been making deals to expand its on-demand and streaming video titles to keep pace with Netflix and new competitors Google, Apple, and WalMart. It recently reached the 100.000 title mark, of which 9,000 are available free to Amazon prime customers. In contrast, Netflix has more than 20,000 titles available for streaming to subscribers.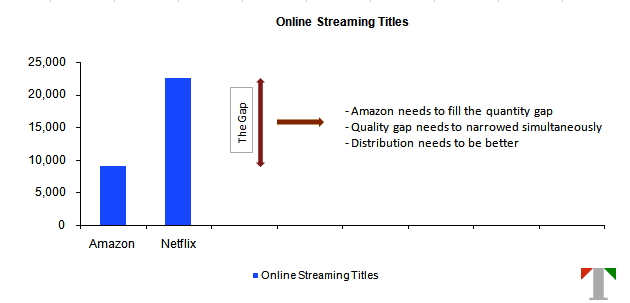 Analysts note that Amazon's Prime membership works out to about $6.60 per month, slightly below Netflix's subscription level for streaming-only service. However, Netflix is available through many more devices, and offers not only more titles, but arguably better ones, which should keep Netflix at the head of the pack.
Apple has had limited titles available through iTunes for a while, but is also working to expand offerings, as Google is ramping up it's Android market to stream videos, and porting some 3000 titles through YouTube. Walmart's recent purchase of video streamer Vudu has jumpstarted its newly rebranded Wal-Mart Video on Demand through Vudu service, with some 20,000 titles. For now, only Netflix, Amazon, and IP streamer Hulu+ have subscription based offerings - the rest offer per-download short-term rental or purchase options on digital versions of films and television programs with prices in the $1-5 range for rentals. It looks like Hulu+ is up for sale, and there's talk of interest from Apple, Google, and DirecTV - which could change things.
Look for Netflix and Amazon to hold the lead in terms of titles streamed, although the per-unit pricing of the Video on Demand services (including Amazon's) may generate strong revenues for a while.
Sources:
How Much are Amazon's Streaming Efforts a Threat to Netflix?
SeekingAlpha
Update - fixed graphics size issue, some minor rewording.
Update II - added DirecTV to possible Hulu+ bidders. DirecTV is also expected to bid for Hulu+ to help remain competitive with Dish Network (which recently acquired Blockbuster(content) and Sling Media (IP video distribution)). Expanding online options would also help DirecTV compete against emerging "TV Everywhere" offerings.