Soaps -
Last week saw another first, as two historic soaps renewed their story lines online, after being cancelled by their broadcast networks. New episodes of
All My Children
and
One Life to Liv
e are now being produced by Prospect Park's The Online Network, and are available on Hulu, HuluPlus, and iTunes. Each of the shows is returning with much of its cast and creative talent intact, familiar sets (although those needed to be rebuilt in their new studio digs), and continuing many long-term storylines. And they're maintaining their high production values.
(As) far as soap operas go, the new "AMC" and "OLTL" look like the real deal: handsomely executed television series that just happened to be produced for online viewing.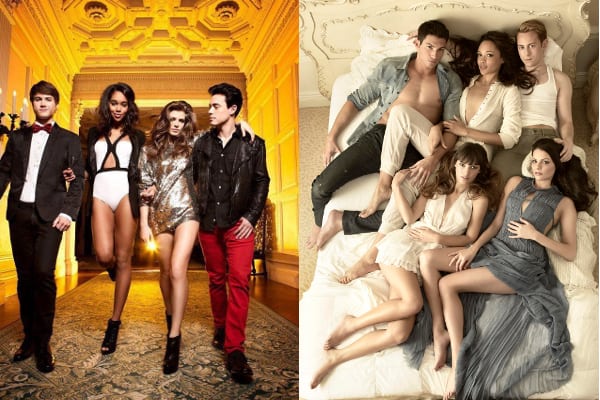 There are some significant differences - new episodes run 30 minutes, and come out only four times a week. Moving off broadcast has also freed the shows from the strictures of FCC "indecency" regulations, allowing them to embrace the greater latitude that cable and pay cable programs are exploiting.
Right out of the box, the kids are running around without clothes on during "AMC," and cursing up a storm on "OLTL." (On "OLTL," s-bombs are dropping over Llanview like ducks from the sky during hunting season.)
Commentators suggest that the new shows are once again skating along the cutting edge of soaps, perhaps seeking to entice younger viewers who have grown up watching the less-regulated content of cable and Internet, while maintaining the familiar characters and plots that might just entice older fans and viewers online.
Production Model
- Talking about Amazon's new political comedy series
Alpha House
on a cable talk show with producers Jonathan Alter and Garry Trudeau, advertising mogul and TV commentator Donny Deutsch let it slip -
"You guys are on the front line of a revolution," Deutsch said.
The subscription video-on-demand (SVOD) model embraced by Netflix, Hulu, and Amazon (among others) could have a huge impact on the future of original content creation and distribution - not only as a new (and booming) revenue source, but in large part because it's a different business/production model.
"It feels a little bit like those folks in the early '50s at the beginning of the era of television or in the early '80s at the beginning of cable TV," Alter said. "Online TV is coming. It's coming really fast and it's going to be great for viewers."
The historic TV program business model emphasized general-interest programs for the casual viewer (and advertisers), and high-overhead, heavily unionized, and increasingly expensive studio production. (On a per-episode basis, a half-hour sitcom can cost $1-3 million; an hour drama $2-5 million; a two-hour TV movie $7-15 million). It's a high-cost but potentially high-reward strategy.
In contrast, the business model for SVOD emphasizes niche programming for the dedicated viewer - the kind of viewer who will pay for access to the show, and devote a weekend to watching a full season of shows, and come back again and again and again. In other words, the engaged, dedicated, fan. In addition, SVOD distributors (like many cable networks) are not tied to the Hollywood studio model for production, and can take advantage of declining costs of digital production and less costly locations. As Trudeau said during the talk show -
"But now there is this perception that content can be made anywhere. Obviously, the provider has to have deep enough pockets, but TV shows are now seen as kind of the new novel. Anyone can make it. As long as it's of a certain quality, people will go find it."
An emerging advantage for niche programming is the potential to use crowd-sourcing for initial funding and testing. Amazon's testing that approach with some of its candidates for new original movies and series - with pilots airing on Amazon Instant Video to gather viewer feedback and response. Then using that feedback to tweak content and select which go into full production
"That form of implicit feedback is as useful, or more useful sometimes, than the explicit feedback," (head of Amazon Studios Roy) Price said. "This told us something about the marketability of these ideas."
Amazon Studios recently turned "Blackburn Burrow," a movie script by screenwriter Jay Levy, into a digital comic to get more consumer input.
Between the lower costs of digital production and distribution and the higher value placed on programs by dedicated and/or engaged viewers, the threshold for success online (and on cable networks) is much lower than it is for the Big Four broadcast networks. And it doesn't hurt that niche audiences can attract premium rates for targeted markets.
The TV program market is changing, evolving, and expanding. Digital innovation is having a significant impact on program production costs and removing barriers to entry; digital distribution is opening new markets and revenue sources; and advertisers are taking advantage of niche programming and targeted audiences.
Vive la Revolution!
Sources -
Are Online Versions Of 'All My Children' & 'One Life to Live' TV Game-Changers
, TV Board
Netflix, Amazon Could Impact Original Content Ecosystem
, TVBlog
Crowdsourcing goes to Hollywood as Amazon makes movies
, Reuters