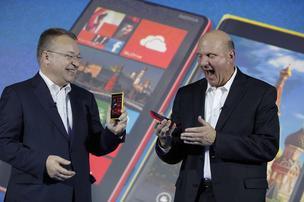 Microsoft will spend more than $7 billion to buy Nokia's cellphone manufacturing business, smartphone operations, and to license its patents - which press releases touted as "substantially all" of the Nokia business.
It wasn't clear in early reports just what would be left of Nokia after the deal (which includes 22.000 employees, including Nokia's CEO and other top executives, moving to Microsoft). Nokia, which started as a paper and rubber manufacturer, moved into the production of telecommunications cables in the early 1920s, and from there started moving into electronic manufacturing in the 1960s. Nokia moved into the cellphone business in the 1980s, growing to become the world's largest vendor of cellphones from 1998 to 2012. Along the way, Nokia also moved into the mobile services business, and divested itself of most non-mobile related businesses in the late 1990s to focus on mobile businesses. However, Nokia never did well in the smartphone business, and fell from the world's top vendor of mobile devices in 2011 and early 2012, to the tenth largest in 2013. It's not clear what role Nokia's commitment to Microsoft's mobile OS for its smartphones in 2011 contributed to the decline. But that may have been a major factor in the deal, and in the speculation that Nokia CEO Stephen Elop is among the contenders for Microsoft CEO (Microsoft's current CEO Steve Ballmer has announced plans to retire once a new CEO is named).
The deal will provide Microsoft with immediate entry into the mobile handset business, and Nokia's mobile business and patents may help Microsoft improve it's own mobile OS - currently accounting for just 3% of the US smartphone market. On the other hand, neither company has been very successful in recent years in keeping pace with the rapid pace of innovation in the mobile sector. Nokia's revenues have fallen by more than half in the last few years, and the sale can be seen as Nokia's attempt to get what it can for a deteriorating business that's unsure whether it can keep up with Apple and Samsung in the smartphone and tablet business that's come to dominate mobile.
Al Hilwa, an analyst at IDC, noted the price was almost too good to pass up for Microsoft, which ended up paying less for Nokia's smartphone business than the $8.5 billion it did for the communications service Skype in 2011.
It's also, perhaps, the last best chance that Microsoft has to become a major player in the mobile market. As part of the deal, Nokia will abandon its own Symbian OS for its cellphones in favor of Microsoft's Windows Phone 7 OS. With Nokia's established user base, that will vault Windows into becoming a major competitor with Apple and Android - if it can keep that user base from switching.
"It's an all-or-nothing bet," (said Gartner analyst Van) Baker. "They have to be successful in the marketplace because there won't be anyone else to fall back on."
Given the two once-giant's performance lately - particularly in the mobile market - I'm not sure that the possible efficiencies of integrated mobile hardware and software development in the smartphone business will be enough. In mobile, you also need to be quick and nimble - something Microsoft and Nokia haven't demonstrated in the last few years.
Source -
Microsoft to Buy Nokia Mobile Business in $7 Billion Deal
, The Wall Street Journal
Enterprise Mobility: Microsoft, Nokia Partnership is a Major Blunder: 10 Reasons Why
, eWeek