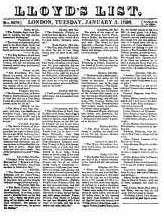 Lloyd's List
, arguably the world's oldest continuously printed newspaper, has announced plans to become totally digital by the end of the year. The paper started providing shipping news in 1734, and remains a preeminant source of shipping news, data, and analysis.
Between the rising costs of printing and mailing, a reader survey that showed that less than 2% of readers relied on the print version, and the increased opportunities for innovation offered by digital, it was an easy business decision. Even so, ending such a long tradition is difficult
In commenting on the move,
Lloyd's List
editor, Richard Meade, harkened back to the first days of the paper, when it was a notice pinned to the wall of a London coffee shop and noting that today its readers can still sit in coffee shops and access the paper through smartphones and tablets - in a sense maintaining tradition while expanding access, opportunity, and increasing their ability "to provide news and market intelligence for the shipping industry... in the format our customers want and need."
Source -
Lloyd's List to go all-digital
, Informa