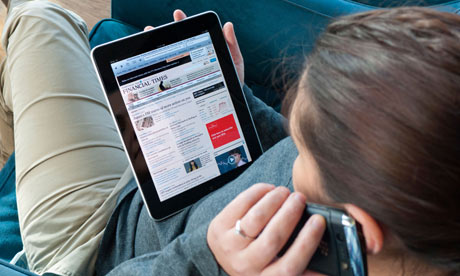 Two recent studies, one in the U.S. and one in the U.K., are indicating that at least half of adults go online for news. The two differ in methodology and in how use is measured, so I'll discuss them separately.
The U.K. study comes from the Office for National Statistics, and looks at Internet Access by individuals, and within households. The survey found that Internet access in Great Britain continues to grow and diffuse: 73% of adults report using the Internet daily, 53% now access the Internet from mobile phones. 83% of households report having Internet access, and 42% had land-based broadband Internet connections.
More than half of adults (55%) reported "reading or downloading online news, newspapers or magazines" on a daily basis, more than doubling the rate reported in 2007 (20%). That change in usage was the biggest of the services reported.
"In 2013, with reports of decreased physical newspaper readership, there has been media interest in how people will access the news in the future," said the ONS.
The survey also found that more than half (52%) of those UK adults have purchased reading materials online had done so through digital forms such as eBooks. A substantial number also reported buying eBooks for the readers in their family.
Usage among young adults (16-24) was greatest for leisure or recreational activities: 93% engaged in online social networking daily, 60% accessed wikis, 55% downloaded software, and 40% made phone or video calls over the Internet. People in the 25-34 age group, on the other hand, had the highest use of regular activities like sending emails (89%), getting information on goods and services (i.e. shopping) (77%), and engaging in online banking (76%). The highest growth in reported Internet usage was among older users, where daily use for seniors (65+)grew from 10% in 2006 to 38% in 2013 and reported daily use among those 55-64 grew from 37% in 2006 to 68% in 2013.
The U.S. numbers come from the Pew State of the News Media 2013 report. In a survey conducted in 2012, Pew asked U.S. adults where they had gotten news "yesterday." Respondents were allowed to cite multiple sources. Half (50%) of respondents reported getting news from digital sources. The only form used more was "TV" at 55%, but that number combined local and national broadcast news with cable news.
Pew does provide some further breakdowns - in 2012, 39% of respondents reported getting news online from mobile devices "yesterday." That would still be the second highest platform usage, but when combined with other online access portals the use jumps to 50%. About one in five respondents (19%) reported getting news from social media, while 16% reported getting news from email feeds and 8% said they'd listened to a news podcast. There is an age break in online news usage - only 43% of those 50-64 reported getting news from online sources "yesterday", compared with 60% daily usage from those under 50.
The other point that the Pew report makes is that online news use is the only format that has not been consistently trending downward over the last 20 years. "TV" daily use has dropped from a high of 71% in 1994 to 55% in 2012. Newspaper usage has dropped from a high of 57% in 1991 to 29% in 2012. And radio as a daily news source has dropped from 54% in 1991 to 33% in 2012. Yes, that's right - more American adults report getting their news from radio than report getting news from newspapers.
Not so good news for legacy formats, but still somewhat optimistic about news usage overall.
Sources - More than half of Britons access news online,
The Guardian
Statistical Bulletin: Internet Access - Households and Individuals, 2013
, ONS.gov.uk
Digital: As Mobile Grows Rapidly, the Pressures on News Intensify
, Pew Research Center
The full Pew report on
The State of the News Media 2013 is available here
.