In what looks to be an interesting case, a Federal judge ruled in a summary judgement that the
Washington Post
, press agency
Agence France-Press
(AFP), and Getty Images (which AFP uses to market its photos, and which it used to license the images in question to other media outlets and publications) improperly and illegally used images that a photojournalist had posted on Twitter.
Daniel Morel, a photojournalist whose photos (of the immediate aftermath of the Haiti earthquake) were placed on the AFP newswire without payment, turned to the courts in March 2010, claiming AFP had violated his copyright. AFP responded with a few different defenses; its boldest, almost shocking defense was that the Twitter terms of service actually granted it a license to use whatever photos it could grab off the micro-blogging service.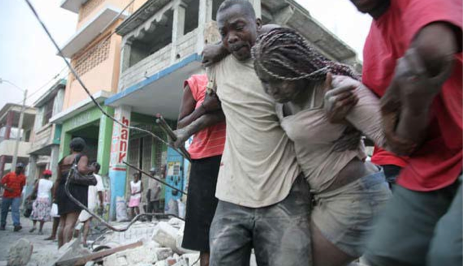 AFP had argued that once posted on Twitter, the images became public - specifically that since the photographer had granted Twitter a license to post and share the picture, that meant that he had granted permission for everybody else to use the photos freely, without permission or royalty. In this case, the judge ruled that such an argument was dead wrong now, just as it was when it was pointed out to the AFP in a copyright infringement case years earlier. And it's certainly not an argument that AFP and other media outlets would extend to their own photos and content, or when they sought payment from others for licensing the Morel photographs to other outlets.
So it was no surprise that the judge knocked down that defense in a summary judgement. (Judges use summary judgements when the allegations are so silly and/or inappropriate that there's no point in even going to trial). The judge also ruled in a separate summary judgement to limit potential damages. Morel's attorneys had argued for damages as set forth in U.S. Copyright Law, which allows for damages of up to $150,000 per instance if infringers did so willfully, and $200 if infringers can prove they didn't know they were infringing; the kicker, though, is that each the damages apply separately to each separate instance of infringement. That let plaintiff's attorneys to ask for damages for each infringement, for each copy of the photo printed in newspapers, or each time a webpage with the image was accessed online - which could lead to hundreds of millions of dollars in statutory damages). The judge, in summarily ruling that any damages would be limited to the initial infringement of each image (and not later reuse), essentially indicated that the current legal language on damages was "ridiculous" - at least when applied to online circumstances like this specific case.
A number of other arguments and aspects of the case, such as whether the infringement was willing, and whether Getty Images acted in the role of purely a middleman passing images and covered by the ISP exemption, will continue on to a full trial, or whether AFP & Getty violated the DMCA by providing false copyright information (in this case claiming ownership by AFP for licensing purposes through Getty).
I've
posted on a similar situation
emerging from secondhand use of photos and images on Pinterest. The main point coming from that situation and this case, is that content creators need to be aware that availability on the net does not equate with being in the public domain. If you do reuse content, you need to consider the nature of that use, whether permission is likely to be needed, and that proper credit and attribution is provided - particularly if you're commercial operation.
The one thing I'll disagree with in terms of the judge's summary judgements relates to the damages. I'll agree that the current copyright law language overdoes damages (mostly to maximize potential deterrence), but rather than limiting damages to the single instance (per image), I'd also argue that Morel should be able to recover a hefty multiple of the revenues that AFP and Getty earned by (illegally) licensing his photographs. But that's the result of fraud as well as copyright infringement, so I hope Morel's attorneys can still make that case.
Sources -
News flash for the media: You can't sell photos grabbed from Twitter
,
arstechnica
More than $120,000,000 at stake in AFP vs. Morel case
,
British Journal of Photography