The latest Ooyala Global Video Index has some interesting findings.
"Widely doubted as a viable TV platform by critics less than a decade ago, mobile today is the fastest-growing segment of online video. It has been for the last two years, and will be for the next two."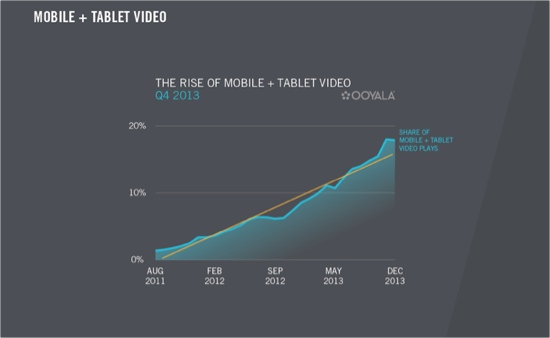 The viewing of online videos through mobile devices has grown 719% since 2011. It currently accounts for 18% of all online video usage worldwide, and Ooyala predicts mobile will account for half of all online video viewing by the end of 2016. In a survey of publishers and broadcasters, almost all (99%) said reaching the mobile audience was "important", if not critical. And 83% indicated they thought mobile video offered a strong potential for monetizing content and services.
And in time for March Madness, the report indicates that mobile viewers are three times as likely to watch live sports on their mobile devices than video-on-demand content. Sports also dominates mobile viewing time, with longform sports content (10+ minutes in length) accounts for almost two-thirds of all mobile viewing time. Turner Sports concurs, indicating in a recent press release that mobile (smartphone and tablet) viewing of its NCAA men's basketball streams was up 71% in the tournament's first two weeks. Turner said the tournament had generated more than 64 million live video streams - 13.5 million hours - over that period, already eclipsing the 49 million lives streams for the entire 2013 tournament.
The Ooyala report is based on measuring the online viewing habits of more than 200 million Internet users in some 130 countries.
Sources -
Half of All Video Views Could Be Via Mobile/Tablet By 2016, Sports Is Big Driver
, Vidblog
Ooyala Gloval Video Index Q4 2013
report