NBC and the BBC hit it big by streaming every moment of every event at the 2012 London Olympics, and currently plan on doing the same this year for the Sochi Winter Olympics (as long as the Russian government doesn't block things). The breadth and success of those 2013 Olympic efforts prompted a lot of audience trying and sampling.
And then there's the runaway success of Netflix and its brethren.
All of this showed promise of a spurt in the use of video streaming for watching sports - which is being confirmed by the latest Adobe Digital Video Benchmark report.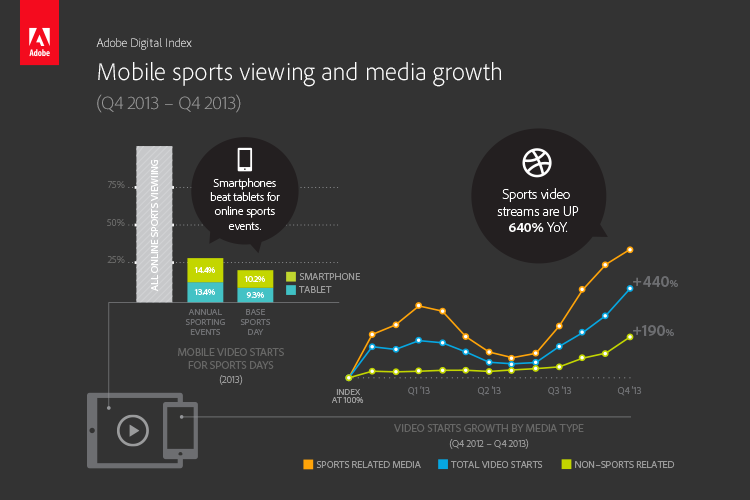 The 2013 4th quarter report shows that sports video streaming has gone up 640% increase over the previous year.
In addition:
37% of TV Everywhere content streams are for sporting events
More than a quarter of video streaming for major annual and bi-annual events are accessed by mobile devices.
Such special events see twice the mobile sports streams than the average
Watching sports streams on mobile is up 73% over the last year
Most mobile viewing for big events is on smartphones
One reporter contacted Adobe, to get their take on the fact that sports is outperforming other video content in generating video streams.
Campbell Foster, director of product marketing for Adobe Primetime, the company's TV publishing infrastructure platform for service providers, said the data back up what many other industry observers have noted about sports: It is engagement viewing that fans don't want to miss, so they use whatever device they can to watch.
Sources -
Adobe research finds mobile sports viewing driving huge growth in digital video
, Mobile Sports Report
Adobe Digital Index Benchmark Report, Q4 2013
, Adobe